Sisters of St. Basil announce plans for the 87th Annual Pilgrimage – Sun., Sept. 5 to Mon, Sept 6, 2021. PILGRIM ANNOUNCEMENT AND SCHEDULE: Pilgrimage-Schedule-rev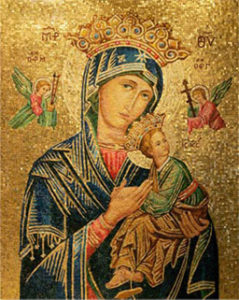 The Sisters of St. Basil the Great are pleased to announce that on Sunday, September 5, 2021, the 87th Annual Pilgrimage in honor of Our Lady of Perpetual Help will be held at Mount St. Macrina. With the theme, "Mother of Perpetual Help, Our Gentle Protectress", the Pilgrimage will be an in-person event and will also be streamed live. Weather permitting, liturgical services will be broadcast at www.sistersofstbasil.org.
Out of an abundance of caution, and in consultation with local county CDC/health department officials, the Pilgrimage will be conducted with guidelines and limitations.
Although we are very happy to warmly welcome Pilgrims to the grounds of Mt. St. Macrina this year, we encourage those with compromised health conditions, unvaccinated Pilgrims, or those who would need to travel great distances to pray with us virtually via the livestream at www.sistersofstbasil.org.
For updates and guidance about this year's Pilgrimage, please follow us on Facebook and Instagram, visit the website and sign up for emails.
The Pilgrimage is held each year by the Sisters of the Order of St. Basil the Great 500 West Main Street Uniontown, PA 15401.  It offers the celebration of Divine Liturgy, opportunities for the Mystery of Reconciliation, Anointing of the Sick, adult enrichment programs, activities for children and teens, and pastoral counseling.
"The Pilgrimage provides for the diverse spiritual needs of many pilgrims who frequent this major unifying event in the life of the Byzantine Catholic Church. Its participants include clergy and faithful from across the country. It holds the distinction of being the oldest and largest Byzantine Catholic Pilgrimage in the United States."